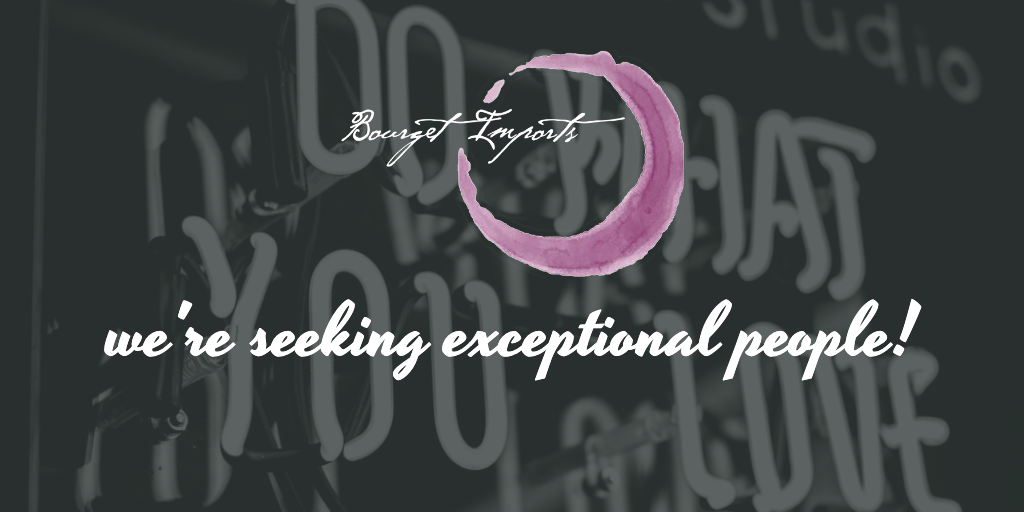 Wine Sales Representative
Duluth & NE Minnesota
This position involves taking over a well-established sales territory.
This is not an entry-level position.
About the Company
Bourget Imports is a family owned wine importing and distribution company looking for a positive, creative and energetic candidate to join our team as a full-time on-premise sales person. We are a fine wine driven company with core values that include integrity, service, and passion for the wines we sell. Working for Bourget Imports offers the opportunity to experience the world's best wines, know the world's best vineyards and winemakers, and explore the local food and wine industry.
Position Description & Responsibilities
The ideal candidate will be a knowledgeable beverage professional who is passionate about wine, spirits, food, travel and culture. You have an ability to develop relationships with key accounts to maximize revenue and create client loyalty. As a consultant for our wines and related products, you will advise customers and carry out successful marketing strategies that drive sales for our company and our customers.
Make regular sales calls to designated accounts to cultivate customer relations and satisfaction with service provided.
Develop territorial sales strategy for brand portfolio, diversification and penetration in each account.
Demonstrate consultative sales abilities through successful presentations of product, the promotion of new and existing portfolio items and the expansion of business.
Exhibit discipline and resourcefulness to meet/exceed assigned monthly quotas and placement objectives.
Participate in sales meetings, on-site training, and continuing education of industry trends/developments.
Review customers' credit status, collect monies owed for product and partner with the Customer Service Department to ensure accounts remain in good standing.
Conduct wait staff training seminars, execute promotions and install point of sale pieces on tables and bars.
Recommend wines, create/design wine lists and wine by the glass programs utilizing full knowledge of Bourget Imports portfolios.
Present self with integrity, professionalism, and commitment to Bourget Imports sales representative responsibilities and policies.
Available for ride-with with Bourget Imports management and work-with for suppliers.
Maintain and update weekly sample inventory for tasting in accounts.
Complete administrative tasks in an accurate and timely manner.
Demonstrate a track record of goal achievements while maintaining a communicative rapport with customers and management.
Report as required to the Management team, updated account route sheet, and account updates (i.e. payment status, contact changes etc).
Required Qualifications
Bachelor's Degree preferred
1-3 years of industry related experience, i.e. you have been a wine buyer, or wine sales representative, have worked as a sommelier, or have sold fine wine at the retail level.
Comprehensive understanding of wine and spirits to include regions/varietals, product/food pairing techniques, basic production, and service.
An overall passion for wine, food, and other cultures will enhance a candidate's success.
Foreign language skills are a plus.
Possess a dependable vehicle, valid driver's license, proof of state registration and insurance, and an acceptable driving record.
Lift and carry a 45+ pound case of product on a repetitive basis.
Must be at least 21 years of age.
Goal oriented, focused, and assertive individual who needs little direction or supervision.
Preferred Qualifications
Thrive on creating and selling innovative ideas and demonstrate an entrepreneurial spirit.
Have lived in or traveled to other countries, embrace other cultures, languages, food and/or cooking.
Strong analytical skills with the ability to calculate pricing and discounts.
Ability to manage multiple tasks throughout the day.
Salary Information
Base salary depending on experience, plus commission exceeding the industry average.  Options for 401K with matching, healthcare, and paid time off.
To Apply
Your application must include the following:
Subject line: Sales Representative Job Application
Cover Letter
Resume
References, 3
To apply, email the above information to annette@bourgetimports.com
Leave a Comment