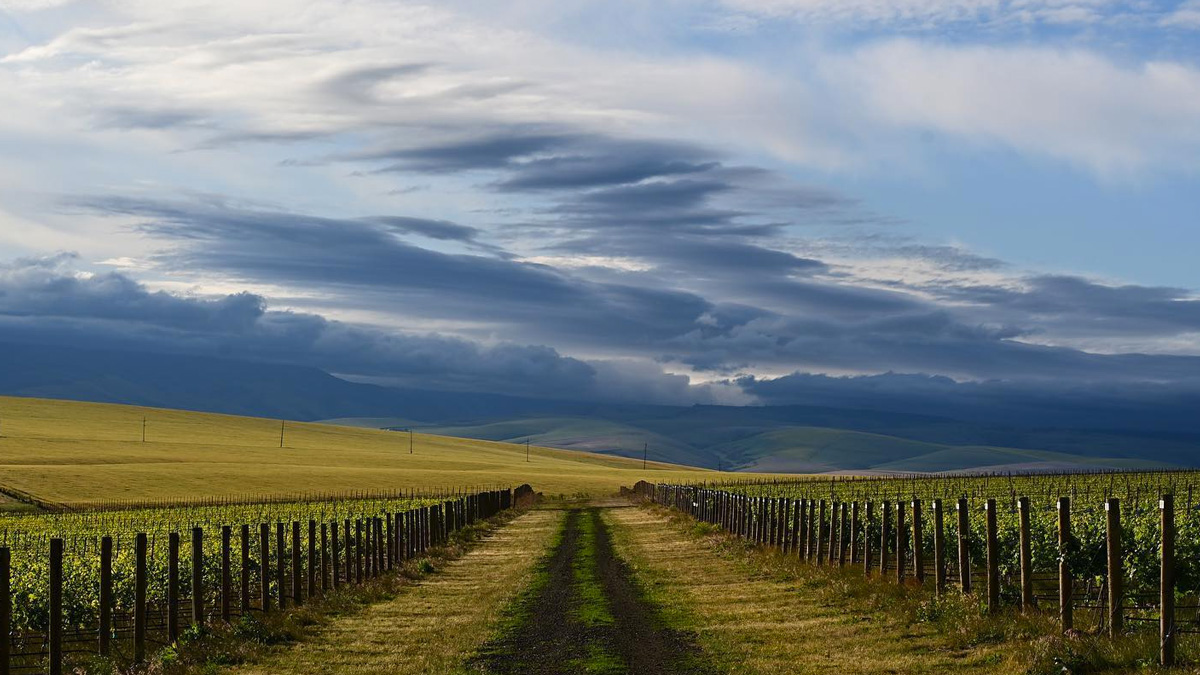 L'Ecole No. 41
Washington | Walla Walla
​Walla Walla Fractured Basalt & 1,200 ft elevation make the magic happen for wine pioneer Marty Clubb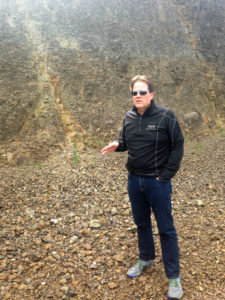 L'Ecole N° 41 is a second generation, family-owned artisan winery. Founded in 1983 by respected Washington wine pioneers Baker and Jean Ferguson.  At the time L'Ecole was founded, they were only the third winery in Walla Walla Valley and the 20th in the state.  Today, Marty Clubb, owns L'Ecole 41 and his primary focus at the winery is a hands-on approach to their viticulture operation.
L'Ecole grow and produce 100% of their wines, with a focus on ultra-premium, distinctive, and expressive wines reflecting some of the oldest and most renowned vineyards in the Walla Walla and Columbia Valleys.
They are at the forefront of sustainable farming in the Walla Walla Valley, most notably with the Ferguson and Seven Hills Estate Vineyards which are both certified sustainable, and certified Salmon Safe.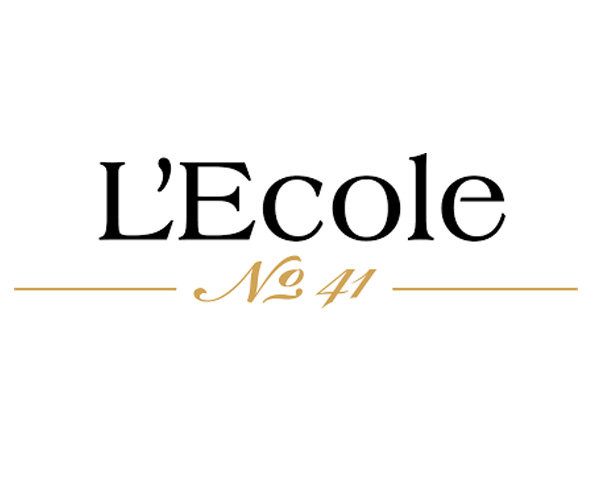 VINEYARDS
Ferguson Vineyard is part of the SeVein vineyard development surrounding their Estate Seven Hills Vineyard.  This prime piece of ground was strategically selected with an appreciation for the property's natural strengths.
At an elevation of 1,300 to 1,450 feet, the cold air drainage around the site is excellent.  Above the ice-age flood silts, the soil is a thin mantle of wind-blown loess overlying fractured basalt.  The loess soils at Ferguson are classified as Walla Walla silt loam.  At the highest elevation, the soil depth is only 2 to 3 feet, such that the vine roots penetrate deep into the basalt providing a complex array of rich minerals. This rock formation is partially exposed, revealing a quarry of fractured basalt which we refer to as The Ferguson Wall.  Mixed layers of multiple lava flows are woven together in a puzzle-like pattern, intersected with veins of calcium carbonate leaching deep into the basalt.  This ridge-line vineyard site is windy, putting stress on shoot development and contributing to thicker berry skins.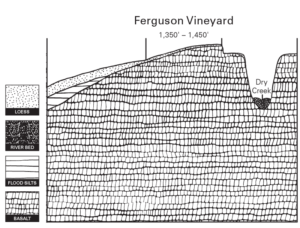 17.4 acres were planted 2008 and 2009 in a multi-clone mix of Cabernet Sauvignon, Merlot, and smaller quantities of Cabernet Franc, and Malbec.  In 2016 an additional 12.6 acres were planted in mostly Bordeaux varietals including new clones and the addition of Petit Verdot.  An additional 12 acres are currently being planted.
Visit L'Ecole to learn more about their range of vineyards in the Walla Walla and Columbia Valleys: www.lecole.com/vineyards
"The Ferguson Vineyard is one of the most stunning vineyard sites I have visited, the fractured basalt is an incredible geology, right up there with other astonishing volcanic sites in the world, yet seemingly unknown."
FEATURED WINES
L'Ecole No. 41, Sémillon Columbia Valley 2018
92-Suckling  91, Best Buy-Wine Enthusiast  89-Wine Spectator
Few Semillons show their richness and complexity as those from L'Ecole, where cool harvest nights help to ensure crisp natural acidity. The grapes were harvested in the cool early morning hours and promptly delivered to the winery for immediate pressing. The fruit was whole-cluster pressed to the tank and allowed to settle. The juice was then racked off the solids into neutral tight-grained French oak, then barrel fermented and aged for 5 months.
Vineyards | Klipsun, Stillwater Creek, Lodmell, Rosebud, Estate Seven Hills
Wine Notes | A refreshing Semillon with vibrant fruit and balanced acidity, this wine shows pretty citrus blossom accented by layers of honeysuckle, melon, apple, spice, and lemon zest persisting through a clean, succulent finish.
Resources
Shelf talker
Tech sheet
L'Ecole No. 41, Chenin Blanc Old Vines Yakima Valley 2018
93-Suckling  90, Best Buy – Wine & Spirits  90-Wine Enthusiast
L'Ecole has produced this old vine, crisp and aromatic Vouvray-style Chenin Blanc since 1987. Higher sugars were balanced against higher acid levels and wonderfully intense color and tannin extraction, big fruit flavors, and overall balanced structure. 2018 was another strong Washington vintage.
Vineyards | Upland Vineyard, Snipes Mountain, Yakima Valley, planted 1979 Rothrock Vineyard, Yakima Valley, planted 1978 Williard Farms, Yakima Valley, planted 1979 Phil Church, Yakima Valley, planted in 1979.
Wine Notes | This fresh and vibrant Chenin Blanc shows highly expressive aromatics of citrus blossom, passion fruit, pink grapefruit, and peach with flavors of yellow apple and pear on a crisp dry finish.
Resources
Tech sheet

L'Ecole No. 41, Frenchtown Columbia Valley Red Wine 2017
A beautiful Indian summer October brought in plentiful sunshine, warm days, and cool night temperatures producing an ideal balance of flavor development, acid retention, and mineral notes in the majority of wines. This wine was aged 9 months in primarily neutral French and American oak barrels, then bottle-aged 6 additional months prior to release.
Composition | 31% Merlot, 25% Syrah, 28% Cabernet Sauvignon, 9% Grenache, 4% Cabernet Franc, 3% Malbec
Wine Notes | Aromas of wild berries, red cherry, and savory notes of dried sage and thyme. The generous, dark fruit flavors remain focused through an integrated finish.
Resources
Tech sheet

L'Ecole No. 41, Ferguson Vineyard 2016
96-Suckling   95-Vinous  94-Wine & Spirits  91-Wine Enthusiast
Ferguson is L'Ecole No 41's newest single vineyard estate Bordeaux blend from the Walla Walla Valley.  Ferguson refects a unique micro-climate and geological profile. This wine shares its name with our newest estate vineyard, also called Ferguson, of which L'Ecole is the sole wine producer.
Composition | 62% Cabernet Sauvignon, 26% Merlot, 6% Cabernet Franc, 6% Malbec
Wine Notes | Ferguson's flavor profile is distinctly influenced by its volcanic basalt soil. This wine offers complex aromas of espresso, tobacco, and dark mineral –laced fruit. Wild blackberries and dusty tannins integrate with flavors of flint and graphite on the palate. Concentrated natural acidity leads to a robust and lingering finish.
Resources
Tech sheet 
Also in our portfolio
L'Ecole No 41, Chardonnay Columbia Valley (2018)
L'Ecole No 41, Grenache Alder Ridge Vineyard Rosé Horse Heaven Hills (2016)
L'Ecole No 41, Luminesce Sémillon Sauvignon Blanc Seven Hills Vineyard Estate Grown Walla Walla Valley (2018)
L'Ecole No 41, Frenchtown Red Wine Columbia Valley (2017)
L'Ecole No 41, Syrah Columbia Valley (2016)
L'Ecole No 41, Merlot Columbia Valley (2016)
L'Ecole No 41, Cabernet Sauvignon Columbia Valley (2016)
L'Ecole No 41, Merlot Estate Seven Hills Vineyard Walla Walla Valley (2016)
L'Ecole No 41, Syrah Seven Hills Vineyard Estate Grown Walla Walla Valley (2016)
L'Ecole No 41, Cabernet Sauvignon Walla Walla Valley (2016)
L'Ecole No 41, Apogee Pepper Bridge Vineyard Walla Walla Valley (2014)
L'Ecole No 41, Perigee Seven Hills Vineyard Estate Grown Walla Walla Valley (2015)
More from our portfolio