In 2011 Muscadet gave birth to 3 new Crus: Le Pallet, Clisson, and Gorges.  The idea was show off upscale wines, specialized wines from a region that is largely known, even in France, for its everyday value wines.   So where have these wines been hiding?  And what makes them special?
For the most part, special wines have been always been made by certain families in specialized areas of Muscadet.  Prior to the regulation, they were simply given a proprietary name such as "Granite du Clisson"  or other name noting the area, somewhere on the label.  The wines in all three of the Crus are made by extending time on the lees, but bear the distinctive differences of each terroir.
These crus are a tiny part of the overall Muscadet Pyramid of wines: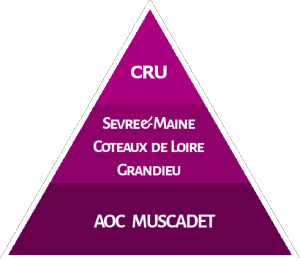 Cru Classé
Clisson, Le Pallet, Gorges
(comprise a mere 200 hectacre in total)
The Mid Tier
Sèvre & Maine, Coteaux de la Loire and Côtes de Grandlieu
(Composed of 2,500 hectactre)
Muscadet AOC
(9000 hectacre)
These cru wines are made under stricter rules than those for 'straight' Muscadet – yields limited to 45/hl/ha compared to 55hl/ha for ACs Muscadet: Sèvre et Maine, Côtes de Grandlieu and Coteaux de la Loire. The grapes have to be riper – minimum of 11% and the time sur lie is longer – 17 months for Le Pallet and 24 months for Clisson and Gorges. Due to the vagaries of the sur lie regulations these crus, communaux cannot put sur lie on their labels as the current rules dictate that a sur lie must be bottled by 30th November of the year following the vintage.
Outstanding Example
VINCENT and STÉPHANE PERRAUD, CLISSON 2010
An incredible force of youth in this five year old wine. These brothers farm the vines of their father on granite soils just at the edge of the historical village of Clisson. The vines are grown in and certified as Biodynamic with average age reaching 55 years. Select fruit is fermented and aged on its lees for 4.5 years.  Incredible richness, but also racy citrus abounds in this wine.  It certainly gives this wine region something to crow about after years of battling an image as a "value" plonky white that is served with your Parisian Plateau de Mer.
More Cru are expected to be recognized.
On their way are:
Goulaine – schist
Mouzillon Tillières – gabbro
Monnières Saint-Fiacre – gneiss
Château Thébaud –  granite
Contact your Sales Representative
for pricing and details on carrying these new Cru Muscadet wines.
Le Pallet   Clisson   Gorges.