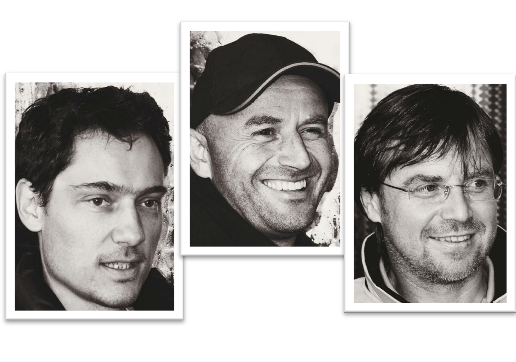 Verus
From Slovenia, three friends joined together, each bringing their own viticultural talents and their family's old vines.  They are one of a very few producers that are showing off the great potential of this dramatic yet undiscovered wine area; Ormoz could be considered a "cru" village in this Slovenian extension of Austria's Styria.  The wines are intense and rich but backed by acidity.  We are extremely please to be offering these wines from our direct importation.
The 2015 Harvest
Handpicked fruit and sustainable viticulture, the 2015 was of the most successful harvest in several decades, perfect balance and beautiful fruit, the grapes come from a vineyard with a calcareous base and sandstone/marl overlay, very steep hillsides, single guyot pruning. Multiple passes (as many as 4-5 different dates) are made in the vineyard to harvest only the ripest fruits.
"Through our wine you and your friends can share our passion and love for nature which gave us this magnificent fruit – we shall preserve it just for you."
Pinot Gris 2015: totally destemmed fruit is gently pressed, cold settled for 24 hours, fermentation in stainless steel, left on lees for two months and then racked, only a light/loose filtration and no fining.  The wine has a stone fruit and mineral quality, zesty acidity, the most elegant of the the varietals they make.
Furmint 2015 : cold grapes are harvested in small boxes and quickly pressed, then moved to both stainless ( 90%) and barrels( 3 yr old 225l French oak) for fermentation. Left on lees for 4 months,  loose filtration dn  and no fining.  The wine has a rich honey and hay nose, peachy –apple fruit and persistant acidity.  The locals love this with fish from  their lakes and rivers.
Sauvignon Blanc 2015: Several passages are made to "triage" the ripest fruits, often according to altitude. Fruit is sorted so that only the most pristine fruits are used.  Care is taken so that there is minimal exposure to oxygen,  all stainless fermentation,  left on lees for 3 weeks,  no fining, only a loose filtration.  The Sauvignon is the flagship grape of the area, vibtant with gooseberry and passion fruit and herbs, nice sappy middle, and luscious mouthwatering finish.
Riesling 2015: A quick fast harvest was competed in 48 hours with the Riesling, done by hand in small boxes, the wine was stainless steel fermented.  The wine was racked, filtered, and bottled 3 weeks after fermentation was completed.  There is a trace perception of sweetness and 5.5 g sugar, but it is well matched by the wine's racy acidity. Floral, peachy and almost minty notes abound.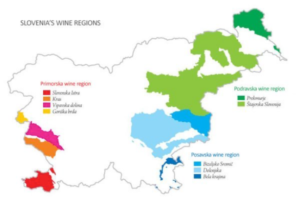 The vineyards are Located  in Jeruzalem, Litmerk, Kog, Vinski and Brebrovnik,  villages on the slopes with a 30 to 40 % incline and an altitude of 300 – 340 m.  The Soil is sandstone and grey marl on the slopes, with clay near the valleys.