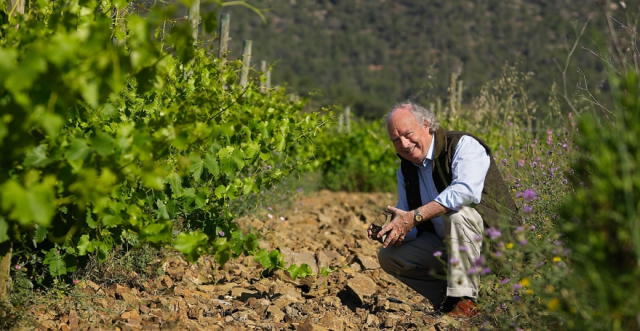 Chris Cannan started in the wine industry in the 1970's as the founder of Europvin, an international company based in Bordeaux with a mission to deliver an exceptional portfolio of wines from Europe worldwide.
During his travels during the mid-80's, he became smitten with a wine from Priorat that he discovered from a boutique wine shop in California. The wine was over a decade old, produced by Scala Dei.
At that time, Scala Dei was one of the only bodega exporting wines of their own label from Priorat — neither Priorat, nor Spain, were yet well-known in American wine market for the production of high-quality wines with age-ability.

By 1997 Cannan was searching to acquire his own vineyard in Priorat, and had great familiarity with the wine area, as he represented the wines of famed Priorat pioneers such as René Barbier, of Clos Mogador and Luis Perez, of Mas Martinet.
Cannan's association gave him great understanding and the insight to purchase select parcels perfect for vine planting. Cannan partnered Barbier and another investor and purchased an amazing single slope in Montsant, that had been historically farmed as far back as the Romans, and is called "Espectacle" and it is a very spectacular slope!
The years of abandonment at Clos Figueras meant re-planting, with Cannan selecting Grenache Noir, Syrah, Mourvedre, a few Cabernet Sauvignon vines and a little Viognier, modeled after Côte Rôtie in the Southern Rhône.
What Cannan had intended to be a minuscule amount of Viognier turned into a lot when he noticed what what he thought was Cabernet Sauvignon was failing to go through veraison its first year of fruiting — the discovery turned out to be a happy accident, and to-date the surprise Viognier is used as the majority grape in the blend for Font de la Figuera Blanco.
From start of the vineyard's adoption by Cannan, conservation of the land has been at the forefront of their practices, and in 2015 they were certified organic by the Catalan Council Organic Production (CCPAE). 
"Christopher's experience and knowledge working with the best wines in the world are reflected in Clos Figueras."