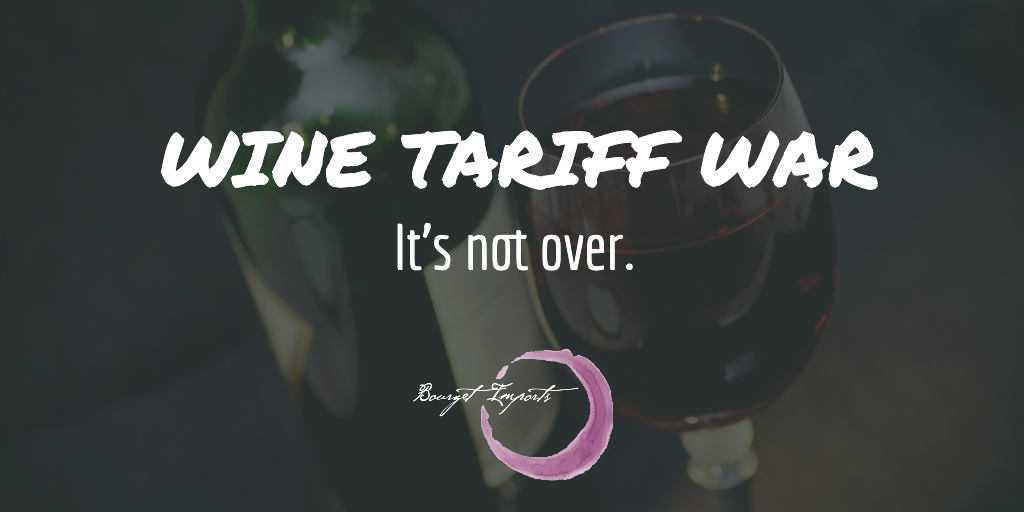 PLEASE SHARE THIS MESSAGE ASAP WITH SUPPLIERS, DISTRIBUTORS, RETAILERS, RESTAURANT BUYERS….
In January you may have heard that an agreement has been reached between Presidents Macron (France) and Trump regarding the French Digital Service Tax (DST) through 2020.  The DST threatened to target French Sparkling wine and Champagne.
The DST tariff may be on hold, but the wine tariff war still wages on.
There are two tariffs of which the wine industry is caught in the crossfire, and the other still stands to cause catastrophic damage.
This past October a tariff was imposed in response to a dispute between two aerospace manufacturers: E.U.-based Airbus and U.S.-based Boeing.  This tariff is currently in place at 25%, and is under review for an increase up to 100%, and also to be expanded to additional products. This is all at the whim of the U.S. Executive office and USTR.  No Congressional permissions or reviews needed.
If the proposed 100% tariff is implemented, it would mean that our customers will have fewer fewer wines available.
Do European businesses lose? No. Most of the winemakers we work with in Europe are specialized and can easily find new clients in other parts of the world.
A decision on this tariff expansion is expected by mid-February, which is the timeline upon which the U.S. Trade Register is able to "carousel", or add/remove, products from tariffed item lists.  See below for what you can do to help take action against these tariffs.
Talking points:
Reference docket number USTR-2019-0003
Remove wine entirely in the carousel for tariffed products on the SEC 301 LCA Dispute
Ask that your message be passed along to United States Trade Representative Robert Lighthizer
E.U. wine tariffs are ineffective as the U.S. is replaceable as a trade partner

Wine imports to the U.S. account for only 15-20% of E.U. production
Growing demand for wine in Asia
Brazil is on the verge of a new E.U. trade agreement that will remove tariffs and give Brazil's 35 million wine drinkers access to E.U. wines

These tariffs hurt American business more than Europeans.

For every $100 of E.U. wine sold in the U.S., $85 goes to American businesses.
Due to the three tier system, a single bottle of wine generates income for 3 American companies

Wine should be removed during this carousel because the tariffs are ineffective against the E.U., and they hurt American owned businesses more than Europeans
Leave a Comment