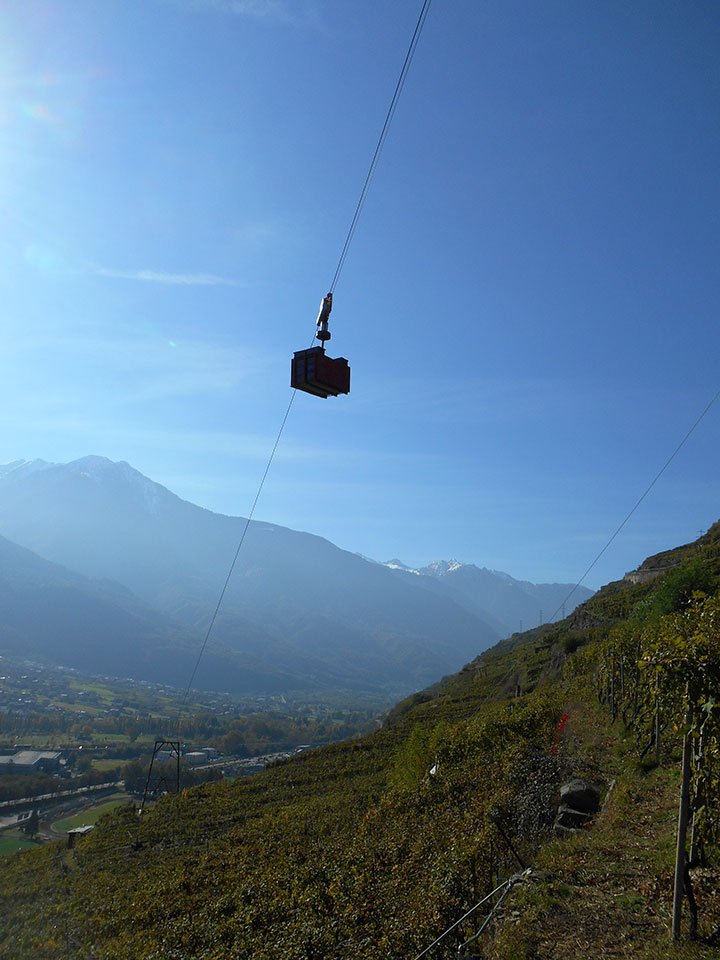 Getting to know Alpine Nebbiolo
Nestled high in the Alps of Northwest Italy, finicky Nebbiolo has adapted to the terroir of Valtellina. Referred to in Lombardy as Chiavennasca, the Valtellina produces some of the most elegantly styled wines of the variety.
Valtellina grapes grow at a higher altitude than Piemonte, also with a shorter growing season that has cooler days and nights. Valtellina wines are as intense as those from Piedmont, yet offer a wider range of aromas along with a lightness and elegance that can't be replicated elsewhere.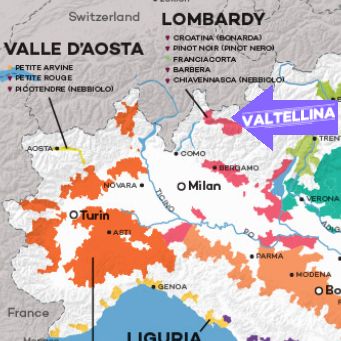 ArPePe
The family of ArPePe have worked their land for over 150 years, doing everything still by hand — a practice that is as much purposeful as it is practical in the topography of the alps. An underground cellar also makes use of the contour of the alps, burrowed within the terraced slopes where the temperature and humidity remain constant for the long maturation period ArPePe commits to in their wines.
Waiting until the right time is one of the signatures of ArPePe's modus operandi. Founder Arturo Pelizzatti Perego's (initials, ArPePe) dedication to a slow evolution before release — often six to ten years, was influential in bringing back into fashion classically-styled wines of Valtellina to global renown.
Rarely does one find a producer so committed and willing to carefully age their wines to the biggest potential. Using generations of experience, they evaluate and release wines at their optimum, wines that give the utmost possible drinking pleasure and often even further aging potential. It is expensive to hold wines in a cellar, but at ArPePe the asking price is a bargain relative to the laborious process and time that goes into the wines.
ArPePe, Valtellina Superiore Sassella Rocce Rosse Riserva 2002
96 – Vinous
The 2002 spent 35 days on the skins in cement, followed by 4 years in cask and cement. Not released until 2016, the Bourget Team enjoyed this wine over the holiday season in 2020 and its drinking beautifully! Galloni recently agreed:
"Ar.Pe.Pe.'s 2002 Valtellina Superiore Sassella Riserva Rocce Rosse is just as compelling as it was a few years ago, when I first tasted it. Moreover, it clearly shows that top-flight Nebbiolo from Valtellina deserves a seat at the table next to the world's greatest wines." – Antonio Galloni, Nov 2019
ArPePe Rosso di Valtellina 2015
100 day maceration in wooden vats, followed by 9 months in a combination of wooden vats and concrete.
"Highly aromatic: cinnamon, sweet red cherry, mint, tobacco and dried flowers all grace this supple, racy Rosso." – Antonio Galloni
Mamete Prevostini
The dynamo that is Mamete Prevostini is an absolute maestro when it comes to Nebbiolo. Mamete's focus is purity and flavor; the essence of Nebbiolo with an emphasis on what the special Valtellina soils give to the vines.
Environmental responsibility is a pillar of Mamete's values. The winery is certified sustainable by CasaClima, and was first certified cellar in Lombardy and only the third in all of Italy.
Mamete's focused portfolio comprises a range of wines including Crus from Sassella and Inferno.
Mamete Prevostini Monrose 2019
90 – Vinous
Grown at 350-650 m in elevation, this Nebbiolo from the vineyards of the Alpi Retiche I.G.T. area results in a light and fresh yet complex rosé. The fruit is gently de-stemmed, and lightly pressed followed by a 12 hour maceration.
"An alluringly sweet display of Nebbiolo Rosé wafts up from the glass with notes of crushed apples, ripe green melon, and hints of spicy ginger. On the palate, silky textures develop, leaning more to the savory side and taking on a green citrus twang, yet remaining soft and pliant throughout. Salty minerals and brisk acids resonate on the finish, making the mouth water for another cooling sip. The 2019 Mamete Prevostini Monrose displays a mixture of ripeness and vibrancy that pleases on many levels."
– Antonio Galloni
Mamete Prevostini Botonero Nebbiolo 2018
Grown at 300-700m in elevation, this Nebbiolo from the vineyards of the Alpi Retiche I.G.T. The fruit is hand-sorted, followed by a gentle de-stemming and light pressing; 6-day fermentation with maceration. After pressing, the wine matures further for 8 mos. in stainless with additional time in bottle prior to release.
This unoaked Nebbiolo yields a fresh and fruit-forward nose: red cherry, currant and strawberry, with rose and violet adding lift to the nose.