Domaine de Cognettes
Loire Valley, France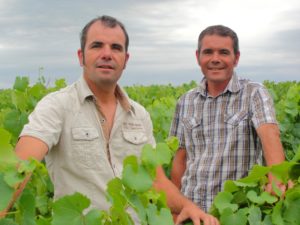 Brothers Stephen and Vincent are third-generation winemakers in an area rich in land and history.
Located in Clisson, a medieval city decorated by French porcelain (Sèvre), and Italian architecture, Domaine Cognettes are producer exclusively of Muscadet, with their Sur Lie aged from several months to four and a half years for CLISSON.
Their vineyard is practicing organic, as well as responsible and sustainable agricultural methods; their philosophy being to practice methods of cultivation for their health, your health, the natural balance and biodiversity of the soil, and the vineyard to enhance the taste and expression of their wines.
Domaine des Cognettes, Muscadet Sèvre-et-Maine Sur Lie
Domaine des Cognettes, Clisson
Domaine des Cognettes, Muscadet Sèvre-et-Maine Clisson
More from our National Portfolio