Bérêche & Fils
France | Champagne
Grower Champagne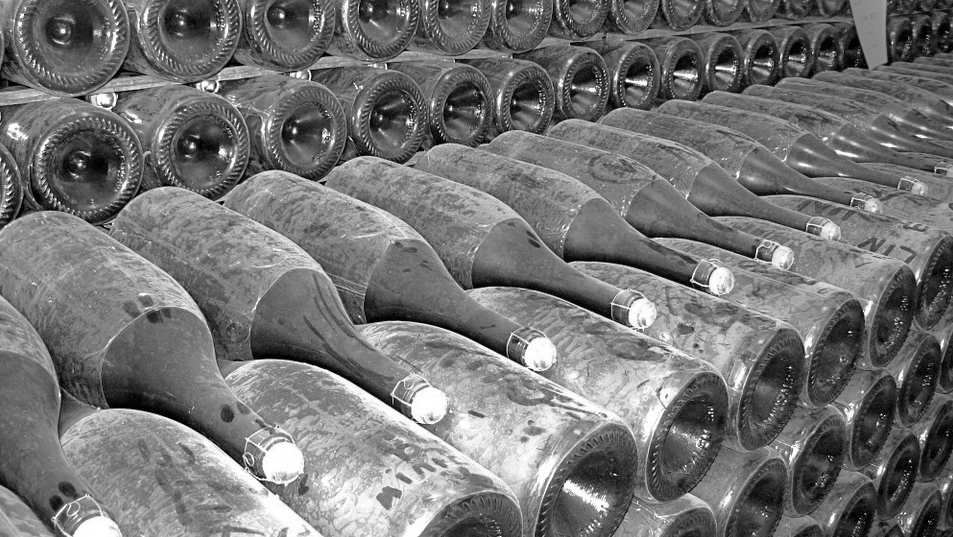 Raphaël Bérêche has arrived as one of the newest members of a small group of cult Champagne producers like Cedric Bouchard and Jérôme Prévost. While the hashtag #growerchampagne might be trending on Instagram, its more than just a trend, and there's so much to it beyond the practice of growing one's own grapes.
What is grower Champagne, really?
Grower Champagne aims to highlight the unique place and vintage, and thus are artisanal, and handcrafted in small batches. By contrast, the vast majority — upwards of 80% of exported Champagne [source] is produced by Maisons, or large Champagne houses. The goal of these maisons is to produce a consistent product, and a lot of it, each year. To achieve this, they are often blending from regions and vintages to produce non-vintage wines with the same taste.
In the Champagne's Montagne de Reims, Raphaël Bérêche practices the least intervention of any Champagne maker we know, but with the greatest precision possible.
Biodynamic vineyards, gravity flow in the cellar, the most gentle press, partial large and small wood for the base wines, "prise de mousse" or second fermentation is often under natural cork, hand disgorging by Raphaël and his brother, with each bottle inspected by a family member.
And the wines? Ethereal, delicate, lacy, but direct. Complex flavors ride on a laser-beams of bubbles and acidity, very fine, racy Champagnes.
A few ways Bérêche stands apart
Champagne "solera" a fractionalized blend of Champagne with the base started in 1985
Wines are entirely hand disgorged by Raphaël, Vincent or Michhel Bérêche
Great terroirs; several single site- terroir specific wines
No pesticides, herbicides
Barrel aging and cork sealed bottles "en tirage"
10 staffers for 9 hectare of vines assures premium laborious attention
Few growers can match Raphaël Bérêche's enthusiasm. That energy comes through in wines that faithfully capture the purest essence of vintage, variety and site. Bérêche fans can look forward to several new Champagnes in the coming years, including the stellar Mailly-Champagne, which makes its debut with the 2013 vintage. As good as the higher end wines are in this range, I often find myself reaching for the NV Brut Réserve, which is reliably one of the very finest Champagnes in its peer group.
Terroirs
Ludes
Ormes/Mareuil-le-Port in eastern Marne
Special collection wines include terroirs from Montagne de Reims and Cote de Blancs
A few highlights from our portfolio
Bérèche et Fils Brut Reserve 
A blend of 70% wines from the base year with the balance reserve wines, composed from approximately one-third each of the three major varieties. A model of harmony, nuance and verve, it is a pure expression of the domaine's varied terroirs that demonstrates both the Bérèche brothers great skill and their originality.
92 pts
Pure and fruity on the nose, very elegant and spicy, with red fruit and cherry aromas. The Brut Réserve reveals a strong tight but long, salty, promising finish.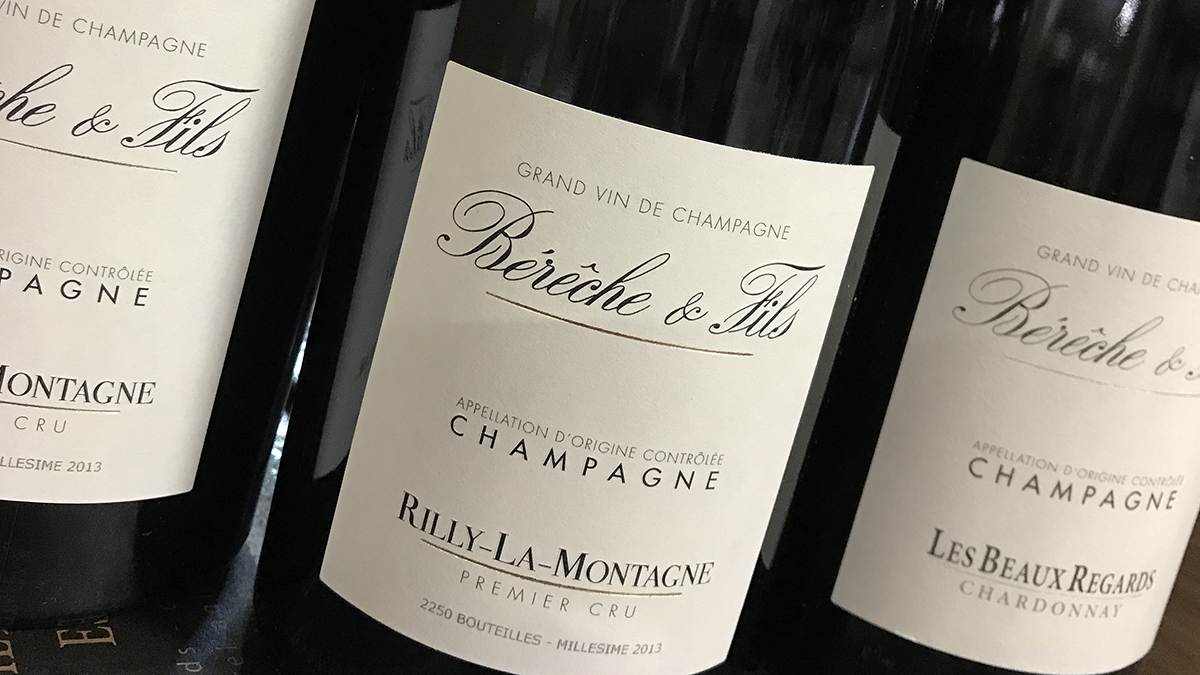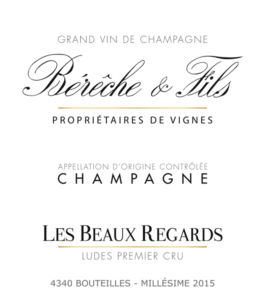 Bérèche et Fils Les Beaux Regards 
A vineyard planted in 1905 by Raphael's great grandfather. It is a Blanc de Blancs, sourced primarily from these ancient vines but also from Les Clos which was planted in 1970. It is very intense flavors in this Champagne, minerally textural qualities from the chalk, ( Rafael says "tannins"). It is a very true expression of "Ludes" terroir.
93 pts
The complex bouquet offers up scents of pear, lemon, chalky soil tones, a hint of buttery oak, fresh almond and white flowers in the upper register. On the palate the wine is pure, full-bo died, long and elegant in profile, with pinpoint bubbles.

Bérèche et Fils Rive Gauche
Contra to the Blanc de Blancs of the Beaux Regards, this is very old vines Blanc de Noirs, and primarily Pinot Meunier from an unusual source of chalky-clay soil in the eastern Marne, called Les Misy near Mareuil-le-Port.
One of the most delicate and fine Pinot Meunier I have ever tasted.

Bérèche et Fils Le Cran
A single Cru that is from the vineyards around the estate in Ludes, 50/50 Chardonnay and Pinot Noir. Lacy, red fruit fruits dance with Minerals. The Ludes soils are thin layer of topsoil over a chunky chalk.

Bérèche et Fils Campania Remensis
The Roman name for Reims "countryside", it is from a single terroir, on the petite Montagne of Reims in the village of Ormes. Also aged under cork as all the wines except the Brut Reserve, it is unusually delicate for 2/3 Pinot Noir 1/3 Chardonnay Cuvee.

Bérèche et Fils Reflet D'Antan 
An incredible experiment started by Raphaël's Dad in 1985. This "solera" of Champagne is 600 liter barrels that are drawn from each year but only 2/3, leaving the remaining 1/3 . The wine that remains is a fractional blend vintages since 1985. The cuvee is 1/3 each Chardonnay, Pinot noir and Pinot Meunier, from the petite Montagne of Reims in the village of Ormes. Also aged under cork as all the wines except the Brut Reserve, it is unusually delicate for 2/3 Pinot Noir 1/3 Chardonnay Cuvee.
95 pts
The Reflection of Antan is weightless, airy and gracious. Graphite, crushed rocks, petrol, smoke and licorice infuse this super-refined, polished Champagne. Intensely mineral, chalky and savory, Reflection of Antan is a model of total precision. The current release is based on the 2013 vintage, with 30% perpetual reserve wines.
More from our Portfolio