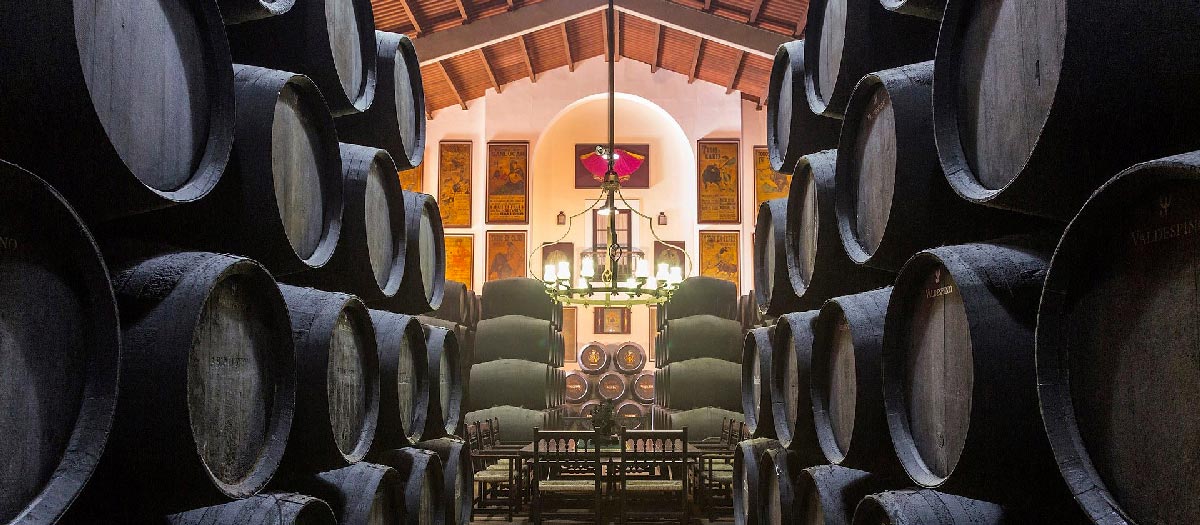 Bodegas Valdespino
Spain | Andalucia | Jerez
Valdespino is one of the most famous sherry producers in the world, steeped in history and rooted in tradition
Valdespino is one of the oldest bodegas in Jerez, if not the oldest. Its history dates back to 1264, when King Alfonso X rewarded the knight Alfonso Valdespino for his help in liberating Jerez from the Moors. Valdespino was given a parcel of vineyards and started making wine.
Valdespino is still sticking to old methods and traditions. More than anyone else they are stressing the importance of terroir. Whereas the majority of bodegas don't own vineyards any more, Valdespino owns 186 hectares of vineyards and controls another 220 hectares, all of them of the Palomino grape. Some of the more important vineyards are located in the pago Macharnudo Alto, a renowned area that is producing grapes for specific sherries like the Fino Inocente.
Valdespino's renowned enologist and technical director, Eduardo Ojeda, is known for his acute selection abilities and is considered one of the top experts on sherry making.
A few highlights in our portfolio:
Manzanilla Deliciosa, from the Soleras of the former almacenista Manuel de Argüeso in Sanlucar de Barrameda, a solera that lies very near the ocean, but in an optimal position for air circulation.
Fino Inocente, a single-vineyard Fino (Macharnudo Alto), around 10 years old and the last Fino to be fermented in oak barrels. From a solera of 10 criaderas.
3. Amontillado Contabandista – From another single-vineyard solera that exists in parallel with Fino Inocente. Around 15 years old used to make the Tio Diego also, except this one is lightly sweetened with PX.
El Candado-the "padlock" is made from 10 yr old Pedro Ximenez, grapes grown closer to Chipiona, laid out on rope mats in the sun to dry before pressing, and then kept in a warmer solera for aging.
Quina – This vermouth is a signature aperitif with an unmistakable identity characterized by the prominence of the Old Oloroso from Jerez, alongside an elegant dash of bitterness, which is offset by the sweetness of the Moscatel. The result is a subtly balanced taste with unique spicy and citrus notes provided by the botanicals and fruits. 
Vermouth – The wine is aromatized by fruits, roots and herbs such as Cinchona bark, gentian root, licorice, nutmeg, dried grapefruit and dried Seville oranges. The final blend is aged together in casks that were previously used to age Valdespino Oloroso.
More from our portfolio