Eden Ciders
Vermont
Unique expressions of extraordinary apples 
Dazzling ciders hailing from Northern Vermont
Apples have more genetic diversity in their chromosomes than humans," says Eleanor Leger, founder of Eden Specialty Ciders in Vermont. "Every seed is created through cross-pollination, resulting in a unique genetic individual. The diversity of tannin, sugar, acids, size and color is huge, which means the potential for all kinds of [apple-based] drinks is huge, too." [ Source: Wine Enthusiast, The Women Leading American Cider Forward ]
Eleanor Leger, Eden Ciders' Founder Owner and also the newly appointed President of the American Cider Association, founded Eden Cider about 15 years ago with the first federally approved label in the United States for ice cider. At that time, they were they were only the 85th cider maker in the U.S. — today there are over 1,100!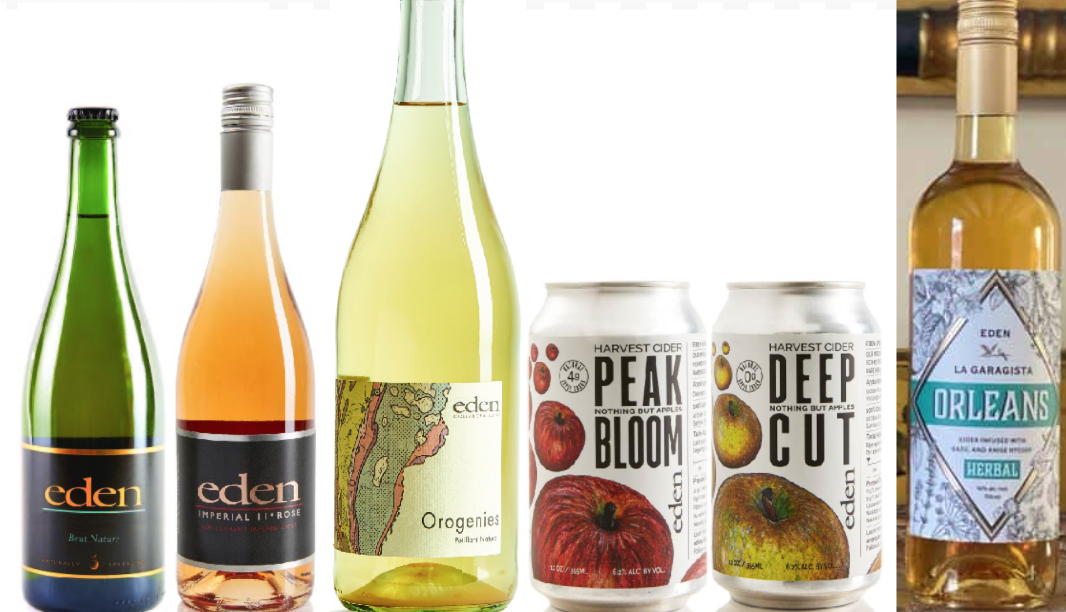 The juice on this juice
gluten-free, vegan-friendly and sustainably grown
Brut Nature, a naturally sparkling Champagne-style cider that rests on the lees for 18 mos., and is hand-disgorged. Truly dry — with Og/L RS., 8% ABV.
Orogenies, a co-fermented apple-grape pet nat, is produced with locally sourced Itasca and Louise Swenson cold-hardy hybrid grapes — two varietals developed by the University of Minnesota that can also thrive in Northern Vermont. 9.1% ABV, 0g/L RS.
Orleans Herbal Aperitif is produced from ice wine undergoes a secondary fermentation with Champagne yeast, and is infused with botanicals (Whole Fresh Organic Basil Plants Whole Fresh Organic Anise Hyssop Plants). It's delightful as a spritz or for creating signature cocktails for your menu! 16% ABV, 12g/L RS.
Imperial 11 Rosé is a petillant, juicy cider finished with red currant. 11% ABV and 12g/L RS.
Two conveniently canned ciders crafted with the same quality and care — no added sugar, color, flavoring or sulfites. Deep Cut, perfectly dry and unfiltered, produced from a blend of cider apples, 6.2% abv, 0g/L rs. And Peak Bloom which is fermented on the skins, 6.2% abv, 12g/L rs from arrested fermentation.
We could keep gushing about how deliciously complex and unique these specialty ciders are — give them a try for yourself!
More from our portfolio